Invitation to join research on 'Smarter working teams'
Why?
You have received a personal invitation from one of our advisors to join the research on improving the work of (people) in teams. This research provides added value for an organisation in two ways:
The participating teams are trained at a greatly reduced rate which will allow them to function in a better way, in return for participating in measurements and an in-depth interview.
Additionally, you'll receive the end report of the research in which all organisations have participated. This includes a tailored advice for your own organisation.
What is the goal?
The goal of the research is to (1) gain insight in what organisations think they need to do in the area of social innovation (now and in the future) and (2) to train and support teams in a new, innovative, way to reach new, sustainable, effective behaviour.
How are we going to investigate this?
To allow the teams themselves to experience new, smarter ways of working (together), conduct an interview with the responsible officer and to conduct a baseline measurement and measurements after 6 ,9 and 12 months.

On what is the approach based?
The approach is based on previous research and pilot projects at organisations such as Shell, ABNAMRO, ING, PZH, 3M, Canon, Ministries, Large municipalities et cetera. The pilot projects from the past have lead to a new 'Blended Learning' approach for individual learningprocesses. We're now applying these processes to teams. To do this, three things are important:
A) Instead of just one day classroom of contact, participants have contact with the trainers over a longer period of time (classroom, online and offline) which allows for more knowledge to be internalised. See the example below of a standard module:
B) A universal work process has been designed, based on new ways of working (Agile, et cetera) in combination with modern tooling. See the visualisation below:
C) All modules fit into a 'learning yourney' which is focused on the development of work satisfaction and talents of people (first individual, and then in teams) on one side and on the development of the organisation (through team development focused on for 'business drivers') on the other side: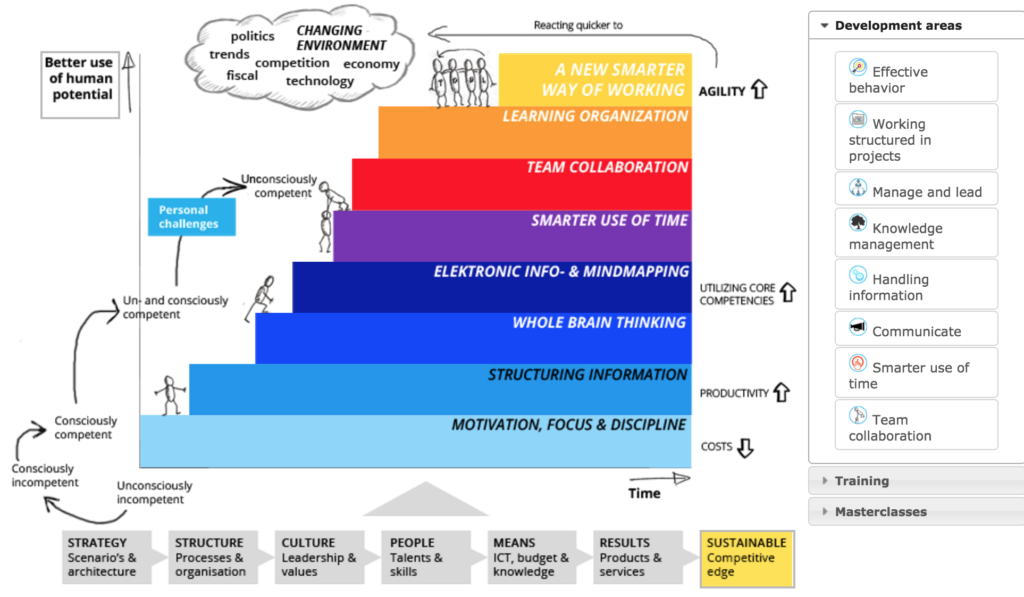 View the online interactive version of this learning journey.

What is the duration of the learning journey and what are the costs?
Each Blended Learning (BL) module will have a duration of approx. 4 weeks until the moment of the extra's (see visual of the standard module above). The extra's have a duration of approx. 3 months and will be extended to 6 months for the teams that participate in the research (with no added costs). The learning journey consists of three modules (Lifelong Learning, MindManager Foundation and Making Smarter Use Of Time). So the participating teams will receive training classes and (personal) support for a periode from 7 to 8 months.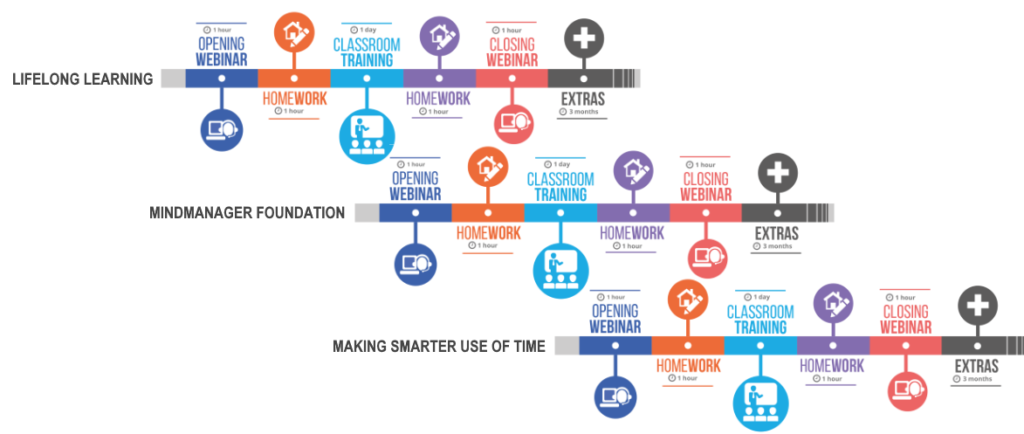 Participating teams which are willing to undergo the whole program, including the interview and the measurements, pay €1000,00 excl. VAT for a training program consisting of three Blended Learning modules (see picture above). Normally, the costs for this training program would be € 2000,00 per participant.
What are the results of previous pilots?
Experience tells us that participants will already save up to a half day in the third month, based on a five day work week (e.g. at ING: 203 minutes, available for review). We expect that participants in teams will save up to one day a week in the third month because there's a lot to win in teams by agreeing on approaches for meetings, setting up projects and monitoring projects, knowledge management and process optimalisation.
Have a look at the interim evaluation (2 years ago) of team 10, 11 and 12 in a larger project at Shell (The Netherlands and Houston) which was then used to improve the program.
How do we increase the likelihood that the learnings lasts?
We will provide extra support for the participants in the area of learning new habits, based on the latest scientific insights, and will increase the learning effect by using components that reinforce each other. Both from a content point of view and from a didactic point of view, as we move from motivation to deutero learning based on methods, techniques, motivation, behaviour, communication skills, visual mapping tools, infographics and a supporting smartphone app. Besides this, we'll also train one of the team member more extensively in a 'train the trainer' program (see this example in Dutch).
What are the results…
…for the participating team?
An improved, smarter way of working (together) which saves time, staff drop-out and increases work satisfaction.
A work process focused on continuous improvement of the social innovation which allows you to react quicker to change and results in increased creativity.
A Blended Learning program for half of the normal price with extra support
…for the HR / Staffing or L&D department?
Insight in how stronger teams are 'built'.
A complete, tailored, policy program and execution program to make teams stronger.
…for the board of directors?
An organisation that (if at least one third of the teams embrace the new ways of working):
Reacts quicker to change,
is more productive and
cost saving while
at the same time increasing their capacity for learning and innovating.
Joining with your teams (limited availability)
This program requires a high level of support, this is why participation is on a 'first come, first serve' basis. Also, this is why we set a limit on a minimum of 12 and a maximum of 14 participating teams for the research. We allow multiple teams per organisation to join (maximum of 3 per organisation). Currently we already have four large organisations participating.
Join
In summary, what are the steps?
Join, after which we'll contact you to discuss the details and to discuss availability.
Participation of a minimum of one team (minimum 6 and maximum 12 participants per team)
Answering the research survey and setting up a session for an in-depth interview with the researcher. This could also be a virtual session.
Answering the survey on team challenges.
Complete a baseline test on time spent in different processes so a follow-up measurement can show 'the win'.
Completing the Blended Learning training program (3 modules) with at least one team.
Completing follow-up measurements after 6, 9 and 12 months.
Discussing the research report and the advice.
Making the translation to your own organisation.
Join